The smartphone labeled as "Lenovo S960S"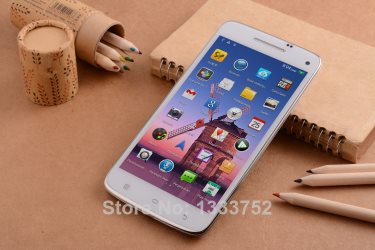 17 Aug 2014
On AliExpress a company sells these so called "Original Android 4.4 Phone Lenovo S960S"
BEWARE! THIS PRODUCT IS NOT WHAT IT LOOKS LIKE!
Youtube video of unpacking the Lenovo S960S.
2014 aug 12 - I bought this smart phone too. As it stands, it looks like some Android benchmark apps (AnTuTu, CPU-Z) report incorrectly the processor as a "MT6592" (octo-core 1900 MHZ) while in reality it is a MT6582 (quad-core 1300 MHZ).
Strange XML
Then on the phone at the root directory of internal memory I found 3 suspicious looking files. There are called 323.xml.xml, 423.xml.xml and 523.xml.xml.xml. I list here the content of the file 523.xml.xml.xml :

<?xml version="1.0" encoding="utf-8" standalone="yes"?>
<list>
<item name="package_name" value="qqfriends,pctvtv,antutu,zdevice,qihoo360,phonoalbumshoushou,benchmark,fen,smartbench,maofei,org.uguess.android.sysinfo.pro,com.dianxinos.toolbox.benchmark,com.qihoo360.mobilesafe,cn.opda.a.phonoalbumshoushou,com.ludashi.benchmark,fen.bl,com.smartbench.eleven,cn.maofei.main,zausan.zdevicetest,com.cpuid.cpu_z"></item>
<item name="resolution" origin="540X960,540 X 960,540x960,540 x 960,540*960,540 * 960,960x540像素,960X720像素" changed="1920*1080"></item>
<item name="pixel_density" origin=":240 dpi:240 PPI:240ppi:240 ppi:240PPI:" changed="441PPI"></item>
<item name="cheat_point" origin="cheat_point" changed="13000"></item>
<item name="cpu_frequence" origin=":1300 MHZ:1300 Mhz:1.5G:598.0 ~ 1300.0 MHz:1.30 GHz:MediaTek MT6592 1.30 GHz:MediaTek MT65921.30 GHz:" changed="1.9G"></item>
<item name="cpu_model" origin=":Quad-Core ARMv7 Processor:ARMv7 Processor rev 3(v7l):ARMv7 Processor rev 3 (v7l):MT6582:" changed="MT6592"></item>
<item name="cpu_hardware" origin=":MT6589:MT6582:MTK6582:mt6582:mtk6582:" changed="MT6592"></item>
<item name="cpu_core" origin=":四核:Dual-core:agold_full_text=4:" changed=":八核:Dual Quad-Core:8:"></item>
<item name="asd" origin="4核" changed="8核"></item>
<item name="qwe" origin=":1.3G 四核:1.3G 八核:1.3G八核:" changed="1.9G 八核"></item>
<item name="zxc" origin="ALPS W-82" changed="LENOVO S960S"></item>
<item name="qaz" origin="1G" changed="2G"></item>
<item name="wsx" origin=":598 MHz-1.30 GHz:598MHz-1.30GHz:598 MHz - 1.30 GHz:598MHz - 1.30GHz:" changed="1945MHz"></item>
<item name="hjk" origin="cheat_point" changed="6000"></item>
<item name="rty" origin="3G" changed="2G"></item>
<item name="fgh" origin="4G" changed="8G"></item>
<item name="erg" origin="e2109v82_tg_t5qhd" changed="e2109v82_tg_t5fhd"></item>
</list>

It looks as if there is some software on the phone, thats is changing output of some benchmark programs. As you can see here there are values "origin" and "changed". Coincidently the processor speed reported by AnTuTu is 1900 MHz, while the reported processor speed of another benchmark is 1300 MHz. Strangely the name of AnTuTu also appears on the 3rd line. It looks like the results of a number of known benchmark / diagnostics software is hacked on the fly to change its values to other values.
agold_cheat_evaluating_software
Googling for "e2109v82_tg_t5qhd" i found a forum where a Czech engineer called it "agold_cheat_evaluating_software". It sounds just like it. I don't know how he gets this name.
As a matter of fact, there are a few apps running that refer to "agold": They are called "AgoldWallPaper" and "AgoldFactoryTest".
There is mention all over the internet about "agold_cheat_evaluating_software" in connection to fake specifications of smart phones.
Check you phone for fake specifications
The real product specifications
A number of known benchmarks give incorrect results! There are more differences between what the seller says and what some of the unknown benchmark / system diagnostics software is telling. I am carefull to not mention the name of the software I use, because it is very likely the chinese company will adapt there software so that other software will also report false values. Look at this Youtube video to find the names of a few seemingly trustworthy software, that give the right information.
So what are the values that are reported by listed software AND advertised by the seller?
| Property | Reported by seller, AnTuTu, CPU-Z | Reported by Quadrant Standard,.. |
| --- | --- | --- |
| CPU | MT6592 | MT6582 |
| CPU frequency | 1900 MHz | 1300MHz |
| CPU cores | 8 | 4 |
| Display resolution | 1920x1080 (hmm landscape?) | 540x960 |
| Brand | LENOVO S960S | ALPS W-82 |
There is also a property value of "e2109v82_tg_t5qhd" that seems to be changed to "e2109v82_tg_t5fhd". How's that, Google?
Also the primary camera seems to have 5 megapixels, not 13 MP.
Someone placed at pastebin almost exactly the same file ! So I placed this file at Pastebin also for everyone to view.
Real specifications
Main Features:
RAM: 1GB (972.45MB available)
ROM: 4GB (3.65GB available)
Gesture Sensing
Gravity/Light/Proximity Sensing System
FM/MP3/MP4/Bluetooth/GPS Function Supported
Note: This phone will work with GSM+WCDMA networks: GSM 850/900/1800/1900MHz WCDMA 850/2100MHz
Unlocked for Worldwide use.
Specification:
Type Phablet
OS Android 4.4
CPU MTK6582
Cores Quad Core, 1.3GHz, Cortex-A7
GPU Mali-400 MP
RAM 1GB
ROM 4GB
External memory TF card up to 32GB (not included)
Network
WiFi 802.11b/g/n wireless internet
Network type GSM+WCDMA
Frequency GSM 850/900/1800/1900MHz WCDMA 850/2100MHz
Support 3G Yes
GPS Yes
Bluetooth Yes
Display
Screen type Capacitive (5-Points)
Screen size 5.0 inch
Screen resolution 960 x 540 (QHD)
Camera
Camera type Dual cameras (one front one back)
Back camera 8.0MP, with flash light and AF
Front camera 5.0 MP
Video recording Yes
Connectivity
SIM Card Slot Dual SIM, Dual Standby
TF Card Slot Yes
Micro USB Slot Yes
Audio Out Port Yes (3.5mm audio out port)
Microphone Supported
Speaker Supported
Factory Test mode
When I boot the phone into Factory Test Mode (power off, then power on with "power" and "volume up" button pressed), go to Version , the phone identifies its CPU clearly with "MT6582".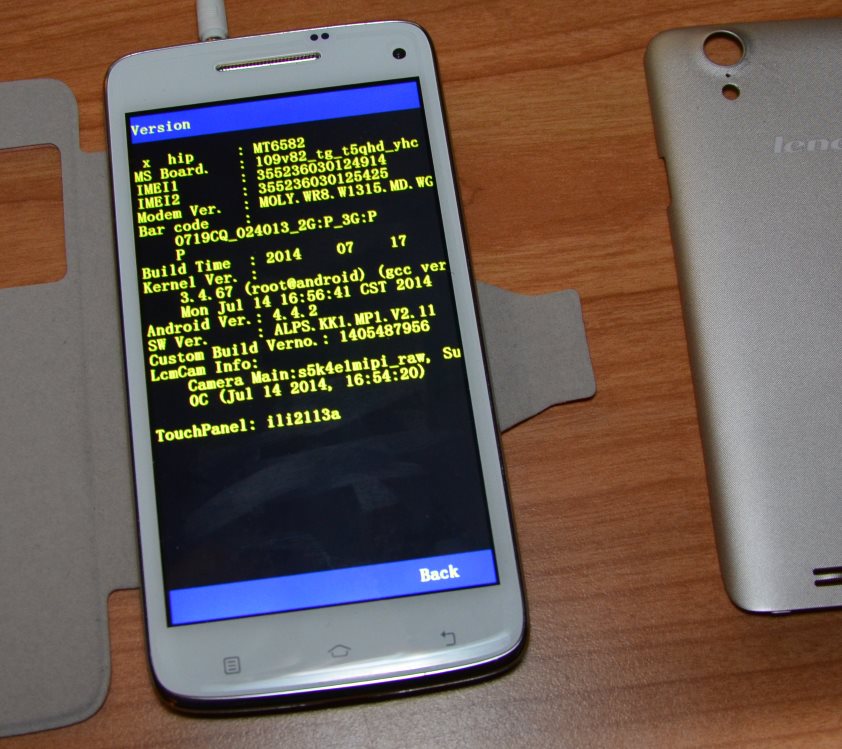 Strangely it seems that the first characters on the screen are garbled. The second character is never the same between boots in factory test mode...
Clone
Apart from the specifications that the seller lied about, this phone seems rather decent. It is really a clone , not an original Lenovo:
All Lenovo phones have the brandname at front. This one doesn't.
The phone was packaged in a generic blue-green box labeled "Android"
A proper manual was missing.
So what is it then? It is just a unbranded chinese smart phone. Like they sell a lot of online. This phone is being sold as
Star W82 or Star W8205
Symphony Xplorer W82 (Maar ROM file bevat MT6572_Android_scatter_emmc.txt voor MT6572 DUS ONGESCHIKT!)
Delion D2 W82
Lets call it a "W82".
Equivalent phones
This is called a "china phone". Equivalent is everything with dual SIM, quad-core MT6582 or MTK-6582 processor/SOC, 1 GB RAM:
Elephone P7 Mini or Elephone G1
UMi X1 Pro
Zopo ZP700
Oppo R833t
iNew V3
XIAOMI MI4